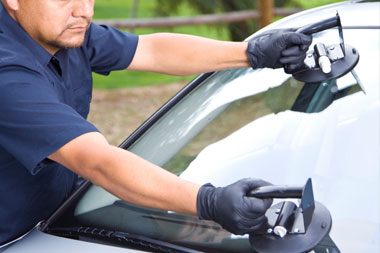 Auto Glass Repair
Windshield Replacement in Michigan
Call Our Stores Directly
Auto glass repair may be a viable alternative to replacing the entire windshield. According to insurance company statistics, up to 30% of damaged windshields can be successfully repaired. In some cases, the blemish may not be completely removed.
Auto One offers expert auto glass repair service in one of our sixteen Michigan locations or by one of our certified mobile technicians. You can either drive to the nearest location, or we can come right to your work or home. There's no hassle, and we will handle all insurance paperwork. 
How We Repair Chips in Your Vehicle's Glass

---
A certified technician removes any fine glass dust from the chip and uses a special machine to extract the air from the chip cavity. The chip cavity is then filled with clear acrylic resin and cured with a UV lamp - all in about 30 minutes. The resin is stronger than the windshield itself and is approved by the Department of Transportation, ensuring your complete safety.
Your Windshield Maybe Repairable If:

---
If the chip or crack can be covered completly by a dollar bill, your windshield is probably repairable.
6 Facts About Auto Glass Chip Repair

---
The fixed area is stronger than the original glass
Glass Chip Repair is a permanent fix
Chip damage may not completely disappear, but repair will restore the structural integrity of your windshield.
It prevents chips from further cracking
If chip cracks further requiring windshield replacement, the repair fee, if any, will be deducted from the replacement cost.
May not pass lease turn-in inspection.
Call today at 866-45-GLASS (866-454-5277)