Auto One Franchise - Unlimited Possibilities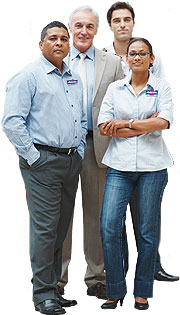 Having an Auto One Franchise offers many benefits. Whether starting up a new business or an existing business looking to expand their services and product lines to enhance growth, Auto One has a program that will fit your needs. Auto One creates an environment for success, packaging for prospective franchises a concept and process that has proven to be a viable, marketable, transferable and affordable program.
The Auto One Franchise atmosphere is one of "Partnership" with franchisees, suppliers and related companies. When you invest in an Auto One Franchise, you go into business for yourself, but not by yourself!
The advantage of The Auto One System is that it brings benefits and mass branding with regional advertisers.
Auto One Franchisees receive guidance and assistance in every part of the business; from site selection, to advertising, to personnel training and development, to everyday operations.
We seek motivated individuals with strong interpersonal skills who can manage and motivate their employees and profitably expand their customer base. Previous installation skills and sales experience helpful but not required.
With an Auto One Franchise, team members have access to business planning and development strategies, training, and proven systems and procedures to help build your business and become a successful owner-operator.
Auto One presents a diversified yet balanced product mix to consistently and effectively respond to ever changing automotive customers' "wants and needs".
Customers who visit Auto One because they "want" a remote starter or tonneau cover, will one day return because they "need" a new windshield. Auto One generates a great deal of repeat business simply because we have so much to offer our customer base - what they want and what they need.
If you would like more information on what it takes to be an Auto One franchise owner, please contact us.