Auto One Glass & Accessories of Lincoln Park, MI
We are a full service automotive accessories and auto glass repair facility in Lincoln Park, Michigan. Our auto service center provides professional windshield replacement and auto glass repair, auto detailing, car and truck paint and protection, and window tinting. We also sell and install a complete line of high quality auto products that includes remote starters and car alarms, sunroofs, tonneau covers, trailer hitches, and cargo carriers.
Each auto glass repair and replacement expert is focused on making your experience a positive one. We accept Visa, Mastercard, or Discover, and do everything possible to make your insurance claim hassle free.
Call our Lincoln Park service center today to schedule your service appointment.
Address: 2366 Dix Highway, Lincoln Park, MI 48146
Phone: 313-382-2140
Fax: 313-382-8933
Email: lincolnpark@autooneinc.com
Hours: M-F 7:30 a.m. - 5:30 p.m. and Sat 7:30 a.m. - 2:30 p.m.
Our Lincoln Park Auto One store and repair center services the following areas: Southgate, Ecorse, River Rouge, Melvindale, Allen Park, Taylor, Riverview, Trenton, South and West Detroit, and Wyandotte
Additional Services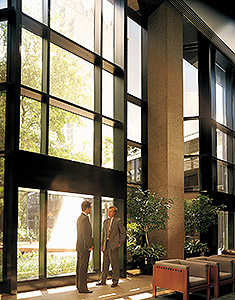 Auto One of Lincoln Park, is your source for both auto window tinting and commercial window tinting for office buildings and homes. Commercial window tinting can help reduce energy costs and improve the exterior appearance of your building.
In addition to energy savings, our window tinting protects against fading due to ultraviolet light and provides safety from broken glass.